HOW DO I: enter medications for a student?

Entering medications for students is a pretty straightforward process. Here are the steps:

Student Information – bring up the student's record and click on the Medications tab.

Click on Add a New Med and find the med in the drop down list next to Medication.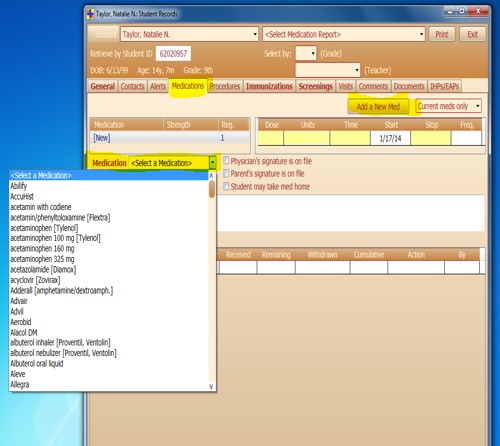 Fill in the highlighted fields for that med related to Strength, and then the Dosage in the grid in the upper right portion of the tab. Any other informational fields such as whether the Parent's signature is on file or the Notes/Instructions can be entered, but are not required.

If the med is something that can be counted (tablets, capsules, teaspoons etc.), in the Bottle data data area, enter the date the med was brought in ( In Date) and the number Received. Other informational data in this grid such as the Out/Exp. Date can be entered, but are not required. Note however that expiration dates are honored in the Meds and Procedures form and will not be allowed to be administered after the date entered. As meds are administered to the student, the number in the Remaining column should be reduced and should always reflect the actual count < for that bottle.

Having done the above, save the record either by double-clicking on the 'Student' label in the upper left portion of the window or by exiting the record. This student's medication should now appear on the Meds and Procedures form where it can be quickly and easily recorded when the child comes to your clinic. If this med is set up as a PRN, then in order to see it on the Meds and Procedures form you must check the box that allows displaying PRNs.





When your supply of a child's med is running low or completely out, you may receive another batch which you will want to document on the student's Medication record. Simply click on Allow Changes and an additional blank line will be added in the Bottle data area. When you enter the number received the Count should be updated.

Similarly, if a parent wants to take away meds, you would click on Allow Changes and then enter the date they were taken in the Out/Exp. Date column and the number taken in the Withdrawn field. Again, the Count should be re-calculated for that med.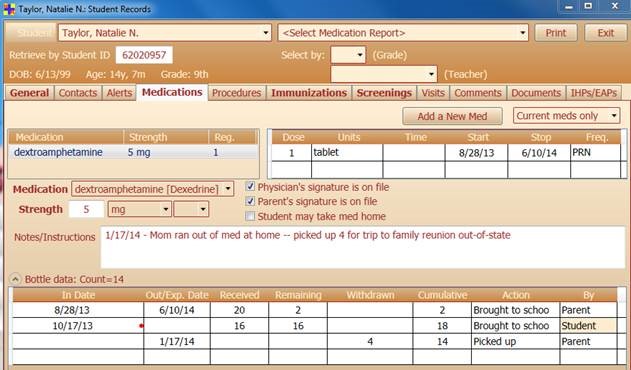 If for some reason the initial count (Received) was entered incorrectly, you may adjust this amount by simply retyping the number in the Received column. You will also be given the opportunity at that time to enter the number remaining in the bottle, since there would be no other way to adjust this number. Other pill count adjustments should be made by either adding or withdrawing pills on separate lines of the Bottle data grid. These adjustments should include the reason for the adjustments.

Return to top